You're nine months old today.
This month I discovered that you love R.E.M. Your mom thinks that it's because they make catchy, upbeat music, but I choose to believe it's just becase you're so damn cool. You play the drums on any convenient flat surface when the music comes on. How cool is that?
You've been easier and easier to put to sleep, although you retain some of your old habits of trying to wake yourself up for some reason. You're close to sleep and you'll reach up and pull your hair or ear, or make this loud droning sound, not a cry, really, but sort of a plaint. Lamenting that you can't just stay awake, maybe.
You love to sneeze. You'll get a dust mote or a cat hair up your nose, I guess, and laugh like it's the funniest joke ever. It's good that you can entertain yourself that way because goodness knows my jokes won't keep you happy…
"What did the eye say when the nose told a dumb joke?"
"That's so cornea!"
See what I mean?
You also are using those surfaces to pull yourself up these days, and your crib, and our legs, and just about anything. Somehow, yo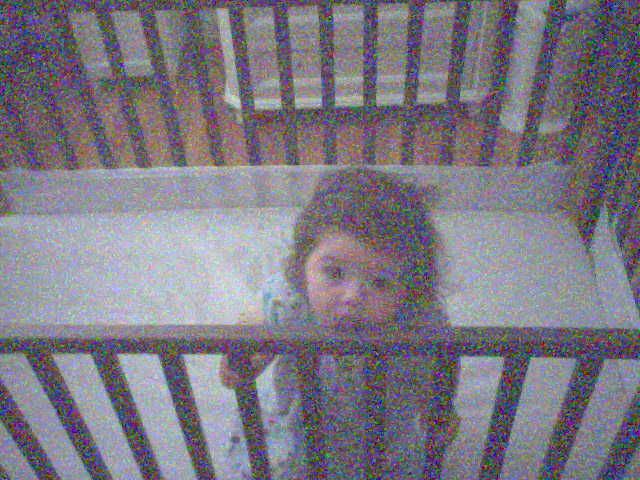 u figured out that we can see you through the little camera in your room and so you'll stare at it imploringly after you wake up and you want to play.
Sometimes you stop eating when your mouth gets too messy. If we wipe it off, you start eating again. You've started eating little baby puff crackers, too, which is fun. You'll take the cracker (it looks like a sea star the size of a Cheerio) and daintily bite off one of its arms, then smoosh the arm into a paste with your tongue. It's a little gross, but you love 'em.
Besides, it's not as gross as it could be. I tried to get you to eat with your spoon on your own yesterday… now that was gross!
So, it's been a busy month. You're very very mobile all of a sudden, but it's starting to rain, so it's harder to get you outside. I'm a human jungle gym on rainy days, trying to keep you interested and active and busy. It's a good thing — I'm more active now than I've almost ever been.
Finally, it should be said how incredibly lucky I feel to be allowed to hang out with you every day. It's not a very common arrangement, and so sometimes I get lonely in a way that I think stay-at-home mothers can combat more easily. Nonetheless, I wouldn't trade this experience for anything in the world. I get to see every tiny little discovery every day, and although you'll hear me complain about exhaustion, confusion, and maybe even career atrophy, don't pay any attention to that. I've never, ever been as blissfully happy on as regular a basis as I am these days.
Thank you for everything, Boo.
Love,
Daddy.