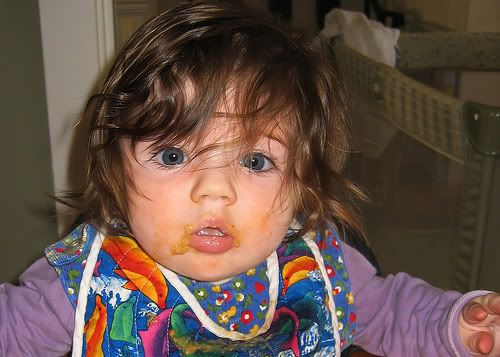 Moomamma was struggling to get Boo into her highchair last night and she asked me how I do it, since I'm at home with her more often. Highchair resistance is a pretty new thing for her, anyway, that flailing and stiffening of legs that makes it impossible to thread them into the chair's legholes.
I know I've managed to get her seated despite protests, but I honestly have no idea how. So I just told her that I used "my third arm," and that seemed to work. I'm not exactly sure where that third arm comes from, but it's sure useful when it decides to make an appearance!
The other mystery is why the food on the bib (a small amount of smear and spit) tastes better to Boobaby than the food in the spoon (an unlimited amount of whatever she wants). It never fails: I'm feeding her, but the bib, unless it's absolutely spotless (which is rare, obviously) is the focus of attention. Maybe our detergent has sugar in it.